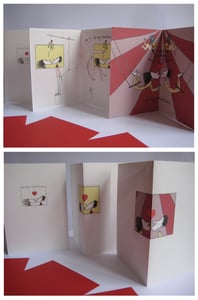 £

9.99 - On Sale
OUCH! creates a whole host of wonderful Valentines Snog Cards; available as a slender, though tender pack of 3 designs.
Fine quality reproductions printed on to both sides of recycled Fabriano paper, each with an envelope.
Because it isn't really worth OUCH! selling just one online, you can trust OUCH! won't tell anyone if you buy our 3 pack!
There are even 3 types of pack; or OUCH! can mix and match for you...
His and Hers, Hers and Hers, His and His...
At the sidebar: 'Snogs...closer look...' you can see more of the designs, which keep on coming...every year OUCH! pops something out.
Add a note at the check out for your mix!
Pssssst.....buy an OUCH! pack and get an 'I love you card' FREE!
A small postage & packing fee is added to the price for you to see before you get to check out.
Original designs by Gwen Turner 